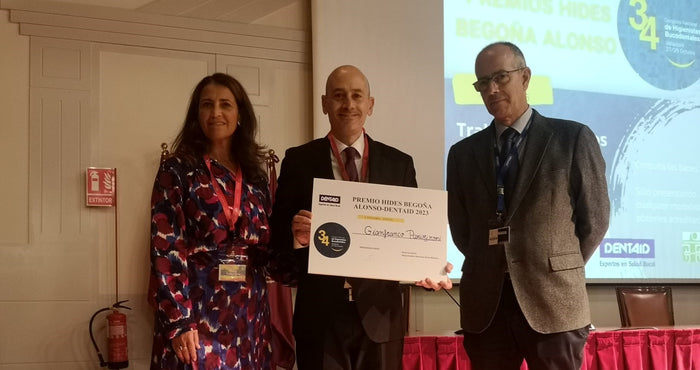 On October 27th and 28th, the Spanish Federation of Dental Hygienists (HIDES) hosted its 34th National Congress in Valladolid, Spain. The event attracted around 300 attendees, including dental hygienists, sponsors, and international speakers. At the congress, Gianfranco Panzironi, a Lumoral consultant, received an award for his poster presentation on the science and advantages of home-use antibacterial Lumoral therapy.
– The purpose of the poster was to explain and disseminate the mechanism of action of photodynamic therapy. I initially introduced the topic telling how photodynamic therapy was discovered by Oscar Raab in 1900. Then, I examined and described the method Lumoral in all its features, explains Gianfranco Panzironi, a researcher, oral hygienist, and lecturer.
In the poster, Panzironi explained the science behind home-use antibacterial Lumoral therapy: for instance, what is role of using indocyanine green as a photosensitiser is in the Lumoral treatment. He also highlighted the significance of the simultaneous 405 nm and 810 nm LED light in the Lumoral device for its bactericidal properties.
– My presentation led to many questions, especially regarding the origin of the Lumoral innovation. Winning the poster competition prize brings me great joy, and I'm grateful to Lumoral for their support and the continuous inspiration they've provided since the beginning, Mr Panzironi notes.
At the event's Lumoral stand, Koite Health Ltd. Chief Commercial Officer (COO) Tero Pasanen was present explaining to oral health specialists together with Mr Panzironi how antibacterial Lumoral method works and how it enhances oral home care.
The atmosphere at the two-day event was friendly and full of enthusiasm, Mr. Panzironi says.
– The presence of Lumoral was something truly new and it caught the attention of visitors. Being a Finnish innovation further heightened curiosity due to Finland's reputation for scientific advancements and oral hygiene emphasis.
Periodontal disease affects many
Numerous dental hygienists visited the Lumoral stand, with their primary interest centered on the green Lumorinse mouthwash in the measuring cup and the active dual-light device. Meanwhile, more experienced colleagues asked for information especially on indication for use and clinical protocols. A common question was how to purchase the starter kit and Lumorinse mouthwash product.
– Mr. Tero Pasanen and I received many thanks and compliments from young dental hygiene students because we have allowed them to learn about a new technology applied to dental prevention. As young students are the future of the oral health profession, it is important for them to learn the latest technologies and procedures that they can't find in the classic textbooks, Mr. Panzironi highlights.
The Dental Council of Spain reports that periodontal disease impacts 25.5% of adults aged 35-44, with a higher prevalence of 33% among those aged 65-74. Dental caries remains a concern in Spain, affecting 35% of young people aged 6-17.
– In my opinion, in the recent years there has been a greater attention to oral hygiene in Spain and this is also due to the presence on market of oral care products from international brands, Mr. Panzironi says.
The National Congress organized by HIDES is held annually in a different city of Spain attracting visitors from all over the country. The next 35th HIDES National Congress will take place on 4-5 October 2024 in Oviedo and will be hosted by HIDES Asturias.