Professional Endorsement
The clinical data are outstanding. The treatment recommended by a prophylaxis expert based on the individual risk has tremendous potential to provide targeted therapy without side effects. In particular, periodontitis treatment will improve substantially with Lumoral treatment.
Koite Health provides a great opening to support pediatric dental hygiene. Sustaining oral bacterial diversity while reducing plaque bacteria is very appealing.
The compartmentalization involved in viewing the mouth separately from the rest of the body must cease. There is strong evidence proving oral health affects general health.
Our Story
Tommi Pätilä (MD, PHD) Specialist in Heart Surgery and Organ Transplation, explains the story behind Lumoral.
Breaking news: A major gingivitis study reveals- Finnish innovation treats and prevents periodontitis efficiently
The breakthrough study shows that eliminating the bacteria contained in dental plaque should be as vital a part of dental hygiene as brushing your teeth and flossing.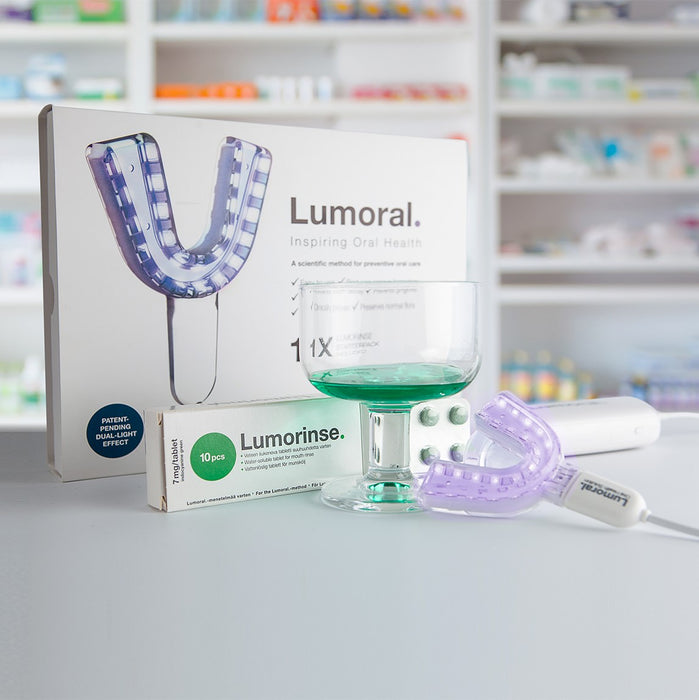 An optimal antiplaque treatment
The light-activated treatment has high antibacterial effect. The plaque-binding mouthrinse allows the treatment to target its antibacterial effect on the plaque, leaving the rest of the oral flora unharmed.
Anti-inflammatory

Lumoral® Treatment reduces gingivitis. It also reduces plaque formation and tartar formation.

Supports normal oral flora

Even in continuous use, Lumoral® Treatment sustains the bacterial diversity in the mouth.

Prevents plaque development

Lumoral reaches and eliminates even the microscopic plaque. Regular use twice a week slows down plaque development.

High antibacterial efficacy

Lumoral® outperforms all other antibacterial treatments for biofilm control.
Customer Feedback
After the first use, I could already tell that the surface of the tooth was smoother. After using it a few more times, I noticed that my teeth felt generally cleaner. My gums stopped bleeding. Very effective in every way. Easy to use and keeps the teeth in good condition.
After a month or two, I find that my teeth are smoother and cleaner, even more shiny. I would give it 10/10.
After using this device, I felt the same way as I did after I switched from a normal toothbrush to an electric toothbrush.
With Lumoral, my teeth become incredibly clean easily. Before, I had to press hard with an electric toothbrush and brush through all teeth many times. Now with very light use and one round with a brush, I got my teeth completely plaque-free.
I am delighted with the cleaning effect. After the radiotherapy, it was challenging to clean the teeth properly. With Lumoral, I finally succeed. Hope the device works for the next 25 years! :)
I get my interdental spaces much cleaner and have no more pain in the gums. I enjoy having a fresh breath. The dentist was pleased to see I use Lumoral regularly now - he is happy to know I am doing my absolute best to keep my teeth in good shape.
Three Easy Steps: Swish, Apply the Light, Brush
Effective against cavity- and periodontitis causing bacteria

Lumoral® is very effective against Streptococcus mutans bacteria, the main culprit of tooth decay, and against periodontitis causing Porphyromonas gingivalis and Aggregatibacter actinomycetemcomitans bacteria. 

Patented technology

Lumoral® provide patented dual-light PDT. Dual-light PDT has shown excellent antibacterial properties in repeated use without resistance formation.

Suitable for regular use

Lumoral® is excellent for continuous use as the strong antibacterial cleaning effect is directed to dental plaque and without a change in normal bacterial flora or bacterial diversity

Cleans and brightens

Even after a single use of Lumoral, one can feel the teeth' increased smoothness as Lumoral antibacterial action removes the microscopic biofilm from the teeth surface.  Clean teeth will result in a naturally bright smile!